It's August 10th, which to me and all of the other Duranies out there means that it's Duran Duran Appreciation Day!! Those babes have been my #1 favorite band ever since I was 12, which I just talked about recently; my love of them sprouted from realizing how much I loved everything from the 1980's (minus the politics) and delved deep into an obsession with the decade. But my love for Duran Duran isn't just for their classic, iconic 80's albums; they have had so many fantastic albums since then.
Just because I know you're curious, I'll take you back to the day  I fell in love with them:
It was a summer day, and I was at my grandparents' house while my aunt Adelaida and my uncle John taught me a little bit about the massive benefit concert that was Live Aid. On July 13th, 1985, literally every good musician you can think of (pretty much everyone I love that was alive at the time) was either at JFK Stadium or Wembley Stadium that day, performing to benefit the starving and suffering people of Ethiopia. It was organized by Bob Geldof of the Boomtown Rats, an Irish punk rocker who is one of my personal heroes. Anyway, back to my #1 darlings; my family had some of the concert recorded on VHS tapes and I believe my uncle John was trying to show me Robert Plant on there. Somewhere in the fast-forwarding process, Duran Duran was introduced, and I thought to myself "oh, they did Rio and Hungry like the Wolf, I bet they play those songs!". They didn't play those songs. They didn't play anything I knew but I fell in love with every song they did play…not to mention, they were such handsome, beautiful men (minus Andy Taylor…gross). I was hooked. I asked for their greatest hits compilation CD that summer for my birthday, entitled simply "Greatest", and my Duran Duran-loving aunt Adelaida bought it for me. I become further obsessed and bought a DVD set of the same name that had most of their music videos on there. It was the beginning of a beautiful obsession that will never end for me.
Please look at this picture of Simon Le Bon at Live Aid and swoon with me:
Naturally I was in love with Simon the most when I first got into the band, but soon enough I moved on and found John Taylor to be my favorite. I still love Simon, but my goodness, just look at this sexy bass player:
Also, they're just hot together:
John Taylor and drummer Roger Taylor (no, none of the Taylors are related, so don't embarrass me) are cute together as well:
But let's not forget my adorable, make-up wearing little keyboardist, Nick Rhodes:
Okay, fine, here's all of them together (including some with the guitarist, Andy Taylor, who I am bitter towards because he quit the band literally 2 days before I saw them in concert several years ago…and later he penned an autobiography and was all like "my guitar playing made the band"….yeah, okay.)
Okay, enough of their beauty for now…if you know their biggest hits, great. But, as a huge and adoring fan of this phenomenal band, I strongly encourage you to give some of their other stuff a chance.
Here are my top 5 songs you should know to truly appreciate Duran Duran on this wonderful Duran Duran Appreciation Day:
5. All You Need is Now, from the album titled the same. It's from three albums ago, I believe.
4. The Man Who Stole a Leopard, also from All You Need is Now.
3. Ordinary World, from the Wedding album (which, like the White Album, is technically a self-titled album but is referred to as otherwise because of the cover). Come Undone is my other favorite from that album that you should check out as well.
2. Friends of Mine, from their self-titled debut album. Yes, finally taking it back; I had to show you that they were more just than an 80's band first. But back to the 80's. I'm so in love with this song. So strange and fun.
The Chauffeur, from Rio. This is my all-time favorite Duran Duran song. Okay, first of all, I could have made an even longer lists of songs you need to know just by listing this entire album. Every song. Every song is fantastic and I love it so much. It's my favorite album of theirs and definitely one of my top faves of all time. But don't pay attention to the video; they're not even in it. Just listen to this strange blend of sounds that gives me chills every time.
But Rio…seriously, it's amazing. Also, when I was looking to buy my first car, I was with my parents walking around  a large auto mall when I saw a beautiful, tiny red car and thought it looked perfect, just what I needed. Then we got closer and I saw that it was called Rio…I knew then it was meant to be. Also, that happened two years just a few days before Duran Duran Appreciation Day, so clearly that sealed it.
Also, look at my main men just this past year with my favorite droids: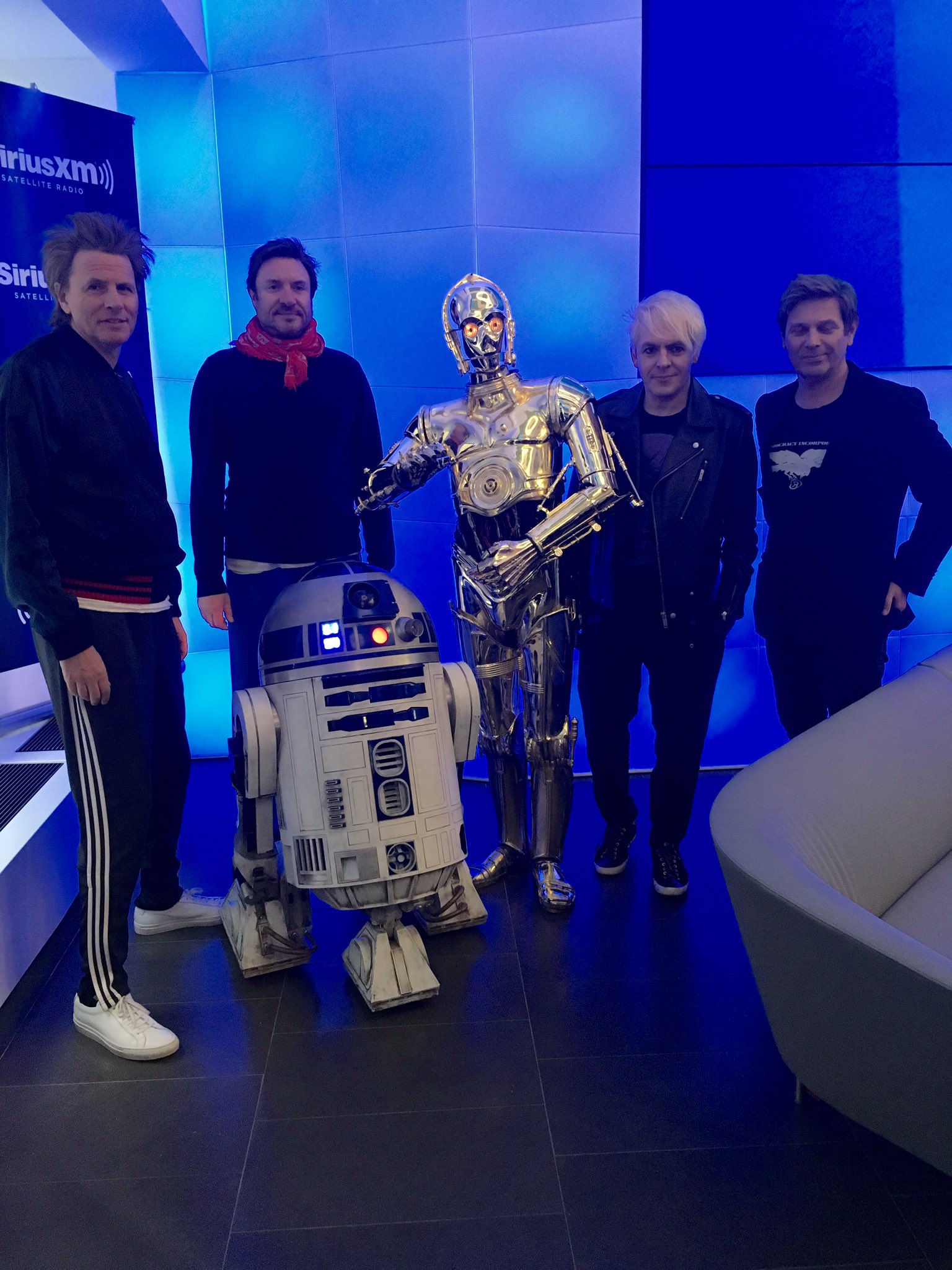 Perfection.
Happy Duran Duran Appreciation Day!! I actually have today off so you know I'll be enjoying their music videos and concerts I have on DVD all day long!! My favorite is Sing Blue Silver, which documents their tour from 1984 (I think?). It's my favorite and probably one of my last finds at Tower Records…ah, Tower Records. It was the perfect music store. May it rock in peace.