That is my favorite lyric from my favorite song from my favorite Disney Princess movie, The Little Mermaid! Did you know that it's the 27th anniversary of when that was released?!
Happy Birthday, Little Mermaid!!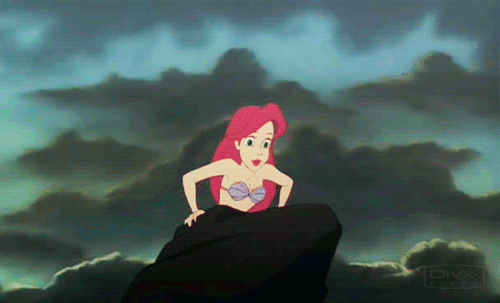 Thank you for giving me my favorite princess, Ariel, as well as my favorite prince, Eric!!
This glorious pearl of a film is not much older than me, so that's probably why I have grown up with it and loved it my entire life. My love has only grown over the years; each time I watch it, I find something new to love. I also think it's my love of it and the characters, mostly Ariel and her sisters, that also make me enjoy watching the stupid prequel The Little Mermaid: Ariel's Beginning. Don't have hope; it's a dumb story, I just love me some Ariel and her sisters and there at least a handful of hilarious moments! The sequel, on the other hand? Yeah, it's actually insulting to even think of that atrocity on this special day of Little Mermaid legacy, so…let's just not!
Like my Star Wars apparel collection and my Rolling Stones collection, I do have a lot of Ariel shirts. Obviously it's necessary; she is my favorite princess! I'm sorry to disappoint, but I actually didn't gather my collection of Ariel shirts/sweatshirts/socks/etc out of pure laziness. But unlike my Star Wars and Rolling Stones collections, I don't have an Ariel dress…yet! I actually recently ordered myself a shorter version of one of my favorite Ariel outfits from Hot Topic:
It's cute enough to wear on a normal day, isn't it?! Seriously; I can't wait to bust it out on date night or even to the next comic convention!
As far as less costume-like and just simple dresses that showcase my admiration…I don't have it yet but I will someday hopefully soon-ish, this beautiful tattoo-styled Ariel print dress, also from Hot Topic:
I NEED it!! Also, I might want it because I'm particularly fond of tattoos…I do want an Ariel tattoo someday; I'm thinking of possibly having her next to R2-D2, taking the place of another dear Disney Princess, Leia, giving him vital information. How adorable would that be?!
Speaking of showing off my love of Ariel, I recently put up some artwork I've collected over the last year on my wall. Don't judge by the way it's arranged and old nail marks still in the walls…and I know it's crooked and uneven. It's not final yet! I just wanted to finally have them up:
Ballerina Ahsoka by Ashley Taylor, Gamora by Gabby Zapata, and Jasmine by Aasilee.
Rey and lady of the hour, Ariel, also by Aasilee, and FN-2187 here is by Spooksieboo.
Tatted up, pin-up style Leia I picked up at Wizard World Comic Con by Bianca Roman-Stumpff.
Dia De Los Muertos style C3PO and R2-D2 by ArtsyChicaBoutique.
And here's another of the birthday girl by Megan Carrigan.
Also, here's a throwback to a few years ago when my boyfriend and I were Ariel and Eric on Halloween:
And here's another more recent throwback to when I geeked out over Ariel in Disney World (and she geeked out over my pins of herself on my lanyard):
Last but not least, here is some Sebastian wisdom to cap this anniversary: