That is one of the many moments giving me hope and chills in one of the latest Rogue One trailers. It is spoken by the beautiful Diego Luna:
An American with Mexican heritage, I have had a devastating week. I've never intended for this blog to touch on politics and that's not changing now, but that doesn't that mean I can hide my heartache and disappointment. I've lost count on how often I've cried reflecting on how half of the country elected an unqualified "business" man who has had several bankruptcies, cheated employees out of payment, called Mexican immigrants as a whole rapists and criminals, mocked the disabled, mocked our own veterans that happened to be prisoners of war when this man himself has dodged the draft several times, normalized talk of sexual assault and abuse, called for identification systems for Muslims (sound familiar? Hitler did that to the Jews) and has been endorsed by the KKK. People say to me, "oh Rita, you're American, you're okay". Well no shit, I'm American. But the kind of people that that man has incited a hatred of minorities in…those people see no difference in someone whose family recently immigrated here to someone who has been here for 4 generations now. All they see is our brown skin. And this despicable excuse for a man chose one of the most anti-gay politicians I've ever seen to be his running mate. I fear for all of us who are different. I mourn the struggles some have already faced in the wake of this tragedy and I grieve the future to come. I have no hope anymore.
So, I have decided to continue thinking about the things that make me happy…naturally, one of those things is Star Wars and how close we are to the first stand-alone Star Wars story, Rogue One! I need this movie so badly right now. I need Jyn Erso's earnest hope and glowing determination. I need Captain Cassian Andor for his darling Mexican self being a leader. I need the severely war-scarred Saw Guerrera for his passion and for his Clone Wars ties; the fact that we are seeing a character from the Clone Wars series in a live action film is just amazing. I just need all of it so much. I need this small group of diverse people coming together to fight something much bigger than they are, to fight the evil and oppressive Empire. I need to see them get those Death Star plans. I'm honestly quite in love with Jyn and Cassian in what I've seen in the trailers so far; Jyn in all of her ass-kicking glory, saying "We have hope. Rebellions are built on hope.", Cassian saying "make 10 men feel like 100,".
Surely you have heard of a coping mechanism known as retail therapy…I couldn't help but engage this past weekend when I saw the exclusive Funko Pop! Captain Cassian Andor bobblehead at Target:
If/when I see this movie and fall in love with him, I also want the bobblehead of him in his blue coat that has very Han Solo-on-Hoth vibes:
And yes, that's a hint to the people that know and love me who need ideas to buy me things for Christmas! Also, I still don't have any of the ones of Jyn Erso. I need some, though. There's several different versions of her; I love all of them except the one where she's in the black Imperial suit. Obviously she rocks and looks amazing, but I just like the other ones that capture her true character's essence. So, preferably her main outfit, hood or no hood.
Look at how perfect Cassian Andor looks next to fellow Star Wars Latino Poe Dameron:
However, while I love Poe in his flight suit, I want one without his helmet. Because mmmmmmmmm:
The one that I want that embodies this sexiness is a Wal-Mart exclusive, but I've found a few on eBay. I'm probably just going to buy him for myself the next time I'm feeling really down. But I'll cut myself off just for this week, because just today, I also required this Funko Pop! bobblehead of another Star Wars rebel:
Finally got the Mandalorian-masked Sabine from Star Wars Rebels at just the second Walgreens I checked! She fits in pretty well with the rest of my darling Funko Pop! Star Wars bobbleheads:
Christmas list opportunity for people that love me: I don't even know if they will be released in time, but Funko Pop! is set to release more Star Wars Rebels bobbleheads. Sabine and Ahsoka were the first ones, and they both exclusives; Sabine to Walgreens and Ahsoka to Hot Topic. I'm pretty sure the other figures will be everywhere that these little guys are typically carried, like Target, Wal-Mart, Hot Topic, etc. All I want is Hera. Perhaps Kanan and Ezra as well, but all I need is Hera:
I love having all of my favorite Star Wars characters together like this. Keep them coming, Funko!
OH, and back to Cassian and Poe making me so happy because they're both sexy and Latino (like me 😉 )….I love all of the diversity that's coming through this franchise lately. Yes, there were always some there ( like Lando by the wonderful Billy Dee Williams), but it's nice to be getting more. Especially more Latinos! Yes, of course I'm bias. But it's just so fun. Also, I'm in love with Oscar Isaac.
And guys…I'm not forgetting Jimmy Smits, aka Bail Organa, aka Leia's beloved adoptive father.
He's of Puerto Rican descent, which is amazing, of course. It made me so happy so see him even just for a moment in the first season of Star Wars Rebels; he bends down to R2-D2 just like his daughter and that image just makes my heart smile. He's a wonderful character. But sadly…we don't really get that much of him in the films. In Clones Wars, yes. He's an incredibly vital character but he is not a main character.
That's why I'm so excited for my fellow Latinos because now, they are among the leading stars in these movies. I just hope it keeps coming and we get even more diversity as these projects continue. It's just beautiful to see; one of the things I love about Star Trek and Gene Roddenberry's vision for it is the diversity, so it's lovely to see Star Wars follow that lead.
Correct me if I'm wrong, but I believe it was Lin-Manuel Miranda that tweeted his excitement about seeing Diego Luna in the Rogue One trailers all like "YESSSSS LATINOS IN SPACE". So now Latinos in Space is a thing; a trending topic, a hashtag, whatever you consider to be hip. And I adore it. I WANT TO JOIN MY FELLOW LATINOS IN SPACE!! Speaking of which…look at this adorable and sexy piece of art by a lovely artist named Mariana Avila: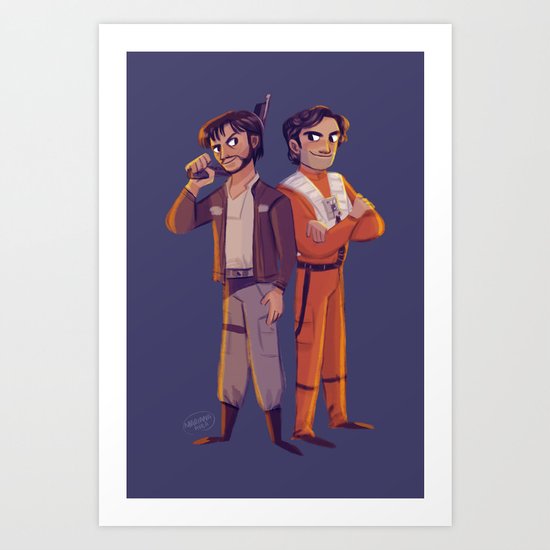 I need it on my walls! It makes me so happy, it's just so perfect and cute! Of course, it's called Latinos in Space!
I'm tempted to buy it right now; it's 10% off with free shipping until midnight! But…it would just add on to the things I've bought this week just because I'm massively depressed. But hey, sometimes materialism has a purpose, however shallow, silly, or brief it may be.
Until next time…"may the Force be with us,".