Evidently today is Star Wars Prequel Appreciation Day! I did not know this day existed until yesterday, but I'm all for it. And if you're one of those people that are like this one awkward dude who yelled at me in a pizza place "THOSE DON'T COUNT" amidst what I thought was a private conversation between my mother, a friend, and I, I kindly ask you to reconsider. And I only feel like I could even bother asking because…I used to be like that. When the prequels first came out, I enjoyed them. Then, over time in middle school and high school, without any more viewings, I decided that they sucked and I hated them (except for Revenge of the Sith). Then, sometime in my first few years of community college, I found myself completely alone for a week, with no work and nobody to hang out with. So I decided to watch all of the Star Wars films in episodic order, the way I heard George Lucas intended them to be seen. It was actually something I always wanted to do since they were all released, but I never got around to it. And no, I didn't squeeze them all in a day; I watched them all in a week. Anyway, in that time, I decided that I liked them. They weren't perfect, but I appreciated them. If I can change my tune, you might be able to as well!!
So, anyway, let's get to appreciating!!
First of all, I have to refer to another website and their lovely fashion finds:
The Kessel Runway: Prequel Appreciation Day
On there, please enjoy some awesome Darth Maul shirts, Queen Amidala/Senator Padme shirts, and even Senator-on-the-romantic-Naboo-lake Padme-inspired leggings along with some Ahsoka Tano apparel (because the Clone Wars series is just another giant prequel, really).
While Ahsoka is hands-down my favorite character of the prequel time period, Padme is my favorite character from the trilogy. I have a new respect for her and I've written about that before. Let's look at my Padme collection:
And, my latest Star Wars items, my Tsum Tsum's that keep my car company:
And I have this print of the beautiful artwork of Sam Skyler: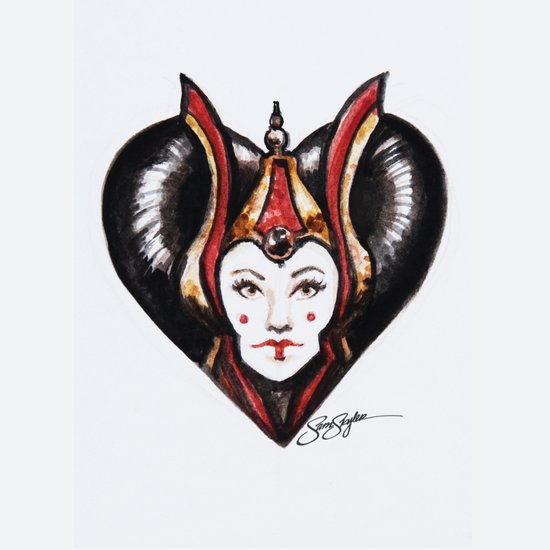 Sadly, that's all for now. When I was just a youngling, I had an action figure of Padme in her baggy-but-cute-Queen-in-hiding look. I miss it, it was so cute!
And, while I've talked about her glorious fashion before, let's just look at it again:
She's even fabulous when she's pretending to be a handmaiden:
Yet, I still need more Padme stuff in my life. Like those shirts I mentioned earlier!! They're a start!!
And…I must remind you that my favorite Star Wars villain is Darth Maul, another awesome thing to come out of the prequels. Look again at my beautiful mug of his scary face:
Okay, just one last thing…again…I just adore this dress she wore by the lake on Naboo:
I need it…okay, that's all for now!!