I know it's been a while…you must think I haven't made any nerdy purchases lately, but you're wrong! But guys…it was a necessary order, I swear! You see…I started a new job back in December; it's an office job and I was told to wear "business casual". I'm almost running out of my plain (not Star Wars, Disney, or rock and roll) attire because for 6.5 years, I didn't have to think about what I wore to work because I always had a uniform; I only shopped for expressive attire to wear while out with friends and such. I need more "normal" clothes. And I do have some nice outfits but honestly, they're almost too nice; I feel overdressed sometimes wearing cute clothes I bought at Express several months ago just because I thought they were cool looking. Also, we have an animal shelter, and I get to play with cats and dogs almost on the daily, so I shouldn't even wear my nicest clothes (although it's really not the end of the world if a blouse gets dirty). Actually, all of that kinda pushes away any justifications I had for ordering this sweater and more…but oh well. YOLO, as the young folk say!
This gorgeous dolman was naturally inspired by the ever fashionable Padme Amidala:
My goodness, that Senator was fabulous even in the morning, just fresh out of bed in Attack of the Clones. I have ordered this with no regrets; I can use it for Cosplay, but also force it into my work wardrobe by pairing with a simple white top (tee or tank, doesn't matter) and jeans!
And here's another one that I've yet to order but I need it because it is also both perfect for Cosplay and daily/work wear:
And yes, it's supposed to be oversized; that's how Padme wears it:
I can't find a picture of it but I've always loved the way she looks in the actual scene of the movie…Anakin is crying and flipping out because he went all mass-murderer after seeing his mother's final breath, and Padme is trying to be compassionate and understanding. Naturally, Anakin just shuts her out, but she looks too precious and adorable with those huge sleeves; there's something about her standing there with these barrels on her arms that is simply quite endearing to me. I've always loved this outfit, so yeah…I NEED this sweater. I haven't ordered it yet, but I can't resist it…it would look super cute with skinny jeans, or leggings (which is what I plan to wear it with on just a regular day).
And there is yet another piece by Elhoffer Design that is taunting me, but I think I could only get away with it doing Cosplay at a comic convention…
I love Padme, but everybody knows that the original space fashionista is her own daughter:
Sadly, in the society we live in today, I simply cannot wear a cape on a regular day to work. I can dream that perhaps someday it will be acceptable, but I know right now it's really not. Damn you, Lando, and your Cloud City capes! To be fair, it could also be considered a long vest; it was designed to suit either preference. It could possibly work with a white long-sleeved top and pants/leggings, if we're going with the vest label. Elhoffer Design named this piece the Galactic Princess Cape, though, so that's what I shall refer to it as.
Alas, it's not bad to buy things just for Cosplay; one of the many ways adult nerds spend their money. So, I need it. It's gorgeous, and I've never seen anyone cosplay this look of Leia's at the conventions I've gone to. Also, it's not the first Elfhoffer Design piece I've purchased only for costume/cosplay purposes:
I dressed up as end-of-Force-Awakens Rey and it was quite lovely. I mean, I'm out of shape, but I still felt super cool and badass. I happened to get the vest and armwarmers during the first wave, but now I think it's on its' last run so if you also want this look, don't hesitate and get it now!
So, I need the Galactic Princess Cape, right?! It seems to be a pantsuit-ish ensemble Leia wears underneath it, but if I get this cape, I would just try to find a long-sleeved burgundy dress and have my own look that way. Or, a burgundy tunic and matching burgundy leggings! I don't know. I just don't think I'm going to find anything exactly like what's supposed to be underneath. Or does this mean I shouldn't get it?! ……NAH! I'm probably going to get it.
I need these items…I'm excited for the dolman I've already ordered to arrive! I think it will be a while, though. But I don't care; I just want it! And all of these Padme inspired pieces by Elhoffer Design are just the beginning; there are more designs to come! There goes my wallet… #worthit
That's not the only Star Wars fashion I've indulged in lately, though.
I recently ordered this tee from Poprageous. I knew when I first saw it that I needed it because 1) this is a gorgeous and badass image of Carrie Fisher and 2) I #resist the bigoted, sexist, idiotic asshole that is now the POTUS and 3) at the Wizard World comic convention I went to this past August, Carrie Fisher was asked what she would do if she had the Force in real life at her panel and she said "get rid of Trump", so I know in my heart she would approve of this image and all of the posters that women made for the Women's March Protest that happened just the day after this new Hitler came into office: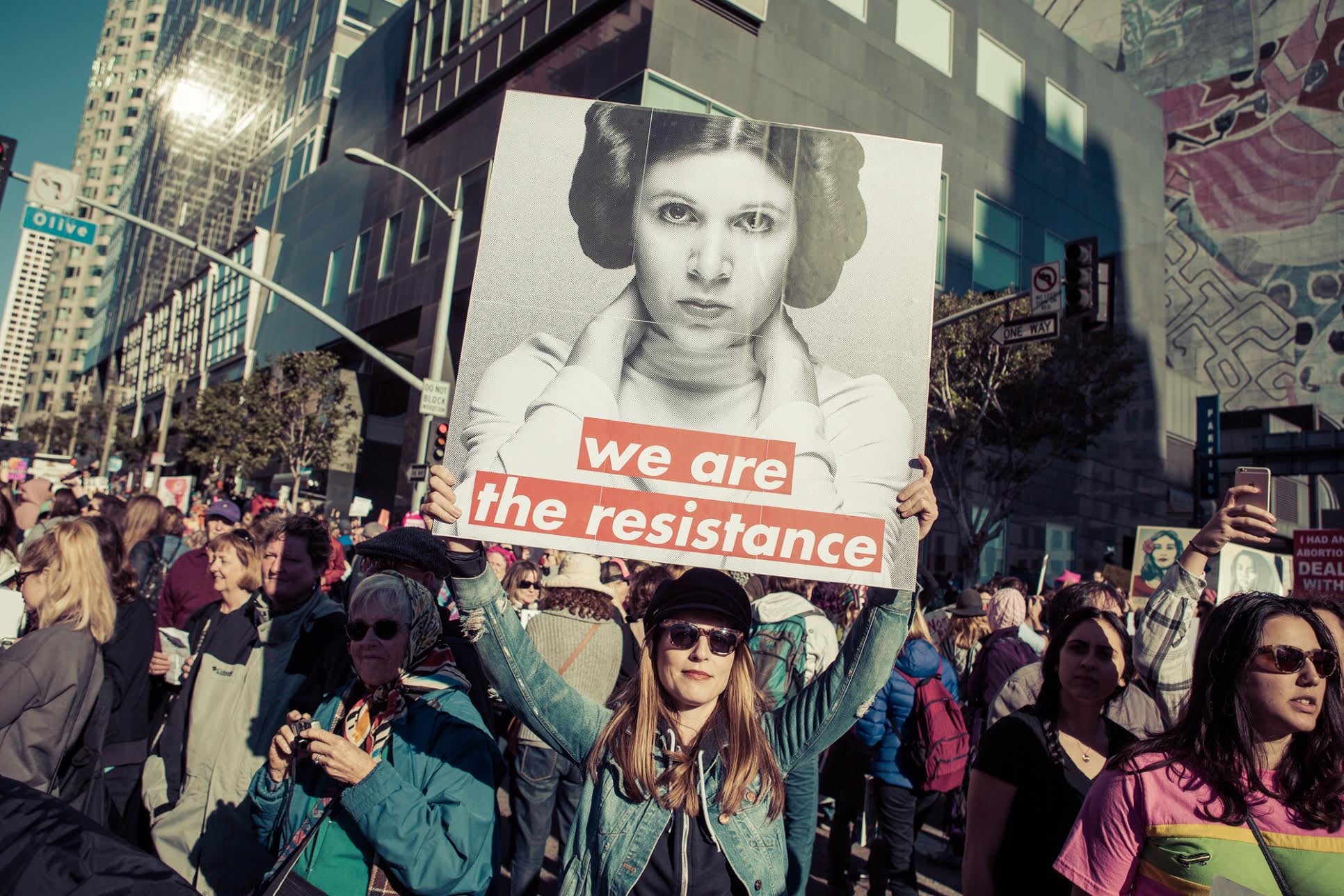 I don't usually get political but today, I can't afford to ignore it. It's on my mind daily, what rights that bastard is going to infringe upon next. But I have hope…on January 21, I had honestly never felt more proud to be an American woman than on that day. We are motivated by our idols, both historical and fictional, and together we will #resist.