Okay, so this time it's actually Vogue doing the ridiculous body-shaming. According to the high-fashion magazine, cleavage is no longer fashionable. In this infuriating article, not only is it claimed that classic cleavage and glamorous plunging gowns are no longer seen on the red carpet, but that women should be less pressured to buy underwire bras because bras do not matter anymore."Bralettes" are proclaimed to be the new bra standard, but that's just dumb. Do you know what "bralettes" are? They are light, usually unlined bras lacking underwire. Sure, they're a big thing at Victoria's Secret now, but I always saw them as casual or for layering. Shit, I sleep in them. I guess now they are being marketed to wear as normal bras, which is silly. As a woman who wears a DD cup, I can assure you that I couldn't possibly get away with wearing a bralette under my work polo or even a t-shirt. Because the bralettes cater to the petite-chested:
"The end of cleavage does not mean the path to a more realistic, more diverse, more empowering world of female body image has got any easier. But at least we get to make the journey in more comfortable underwear," UMMM, SPEAK FOR YOURSELF. This new "trend" of less supportive bras for the sake of being fashionable is not comfortable for us women who have boobs. I actually love lacey underwire bras; they support me and I feel glamorous. I feel like Marilyn Monroe. I don't have to worry about things peeking through or popping out when I move.
Now, I'm not here to body-shame the skinny and flat-chested women out there. I'm just trying to point out the injustice of this new "trend" to simply not really have boobs. You know what's trendy now? The braless "70's boob" look. However, us busty gals cannot achieve this look without major weight loss or deduction surgery. The Guardian article supporting the new Vogue statement uses Michelle Phieffer as an example of the ideal look of modern breasts: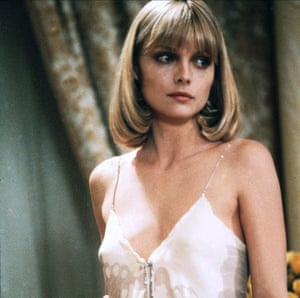 Only tiny women can possibly get away this kind of look. I can't help but think that's got to be uncomfortable; for me and other curvy women, that's just a lot of bouncing during every day life that is a pain and a nuisance. The article goes on to acknowledge that this look is for women who have small boobs or surgically enhanced boobs because they won't need a bra. Again, I'm really not trying to put down petite-breasted women, but here is where I became angry: "breasts piled together like a pair of cream buns do not make a subtle statement,". Ummm, fuck you. No, seriously, screw off. Some of us that were blessed/cursed with big boobs simply cannot help having cleavage. We don't have to try and it's just there. Like, earlier this week, I dressed up as Rey for Halloween. Rey, one of my perfect Star Wars idols, is played by the beautiful, darling, and badass Daisy Ridley. I had been sitting next to my mother in my costume on Halloween morning watching Ghostbusters (2016 ladies version) and she turned to me, shocked and somehow almost offended: "Geez, does Rey have that much cleavage going on?". You know what, mother? She doesn't. She's very small in that area but damnit, I am not. So I had to layer my outfit and wear two tank tops to cover up the cleavage and even then I struggled; my mom embarrassed me in front of my family by walking by and pulling up one of my tank tops while I was mid conversation with a family member. I know she meant no harm, but things like that just instantly make me feel guilty. I truly wasn't trying to show off my ample cleavage while at a family gathering. Do you know how annoying it is to be busty and constantly pull up whatever you're wearing, Vogue?! DO YOU?! Do you know how annoying it is when you buy a cute top at Express and then you put it on and you didn't realize that the scoop-neck style would just fall so low on you?! On the rack (no pun intended), it honestly appeared to be a regular, casual tee-shirt. But it wasn't on me. ALL I WANTED WAS TO HAVE THAT PRETTY PINK AND WHITE TYE-DYE TOP. I DID NOT ASK FOR THE CLEAVAGE OR ANTICIPATE HAVING TO LAYER THAT TOP TO TRY TO MAKE SURE SOMETHING IS MORE SECURE ON MY CLEAVAGE.
(P.S., here's my costume in case you were wondering! With the fabulous vest and armwarmers by Elfhoffer Design)
And I shouldn't have to feel like I can't wear certain things because people will be judging or staring, or now, saying that I'm out of fashion simply because I'm busty. So, fuck you, Vogue and insignificant Guardian writer.
Here is the beautiful and voluptuous Scarlett Johansson to further iterate my point:
We all feel a little self-conscious at times; you're not helping by telling so many women that the way they are naturally is just not fashionable.