As you may know from previous posts, I have just a mild obsession with buying art. Not just any art, but art by people I find on Instagram, Etsy, and Society6. There's just something about buying art that isn't massively produced and sold at stores like Hobby Lobby that feels so cool and satisfying. Don't get me wrong- I have this really awesome comic style, pop-out illustration of Captain America on my wall that my boyfriend got me from Hobby Lobby and I love it. And by pop-out, I mean his body protrudes above the background as well as a few little comic book covers. Captain America is actually currently the centerpiece right now for what I'm planning to do with other artwork I have purchased recently! But at the moment, he's all alone on my wall…but eventually he will be surrounded by all of this amazing art, it will be so beautiful!
Initially, I was going to have only a few pieces surrounding my Steve Rogers; one was going to be Star Wars themed, and on the other side just something traditionally Disney (leaning towards Disney Princess) to complete the trifecta of brands that Disney now represents. Er, bought..whatever! It makes me happy, either way. But anyway…I can't exactly hold down a theme anymore because I keep buying many Star Wars prints and just a few Disney prints. So, I thought that I would just find another Marvel thing to make it somewhat even…but I haven't purchased it yet. It's not my fault! The artist has not listed it for sale yet; I only saw a preview of it on her Instagram months ago and have been following her Etsy shop and it has not been on there yet but I know she's doing it soon, she's announced just as much. So when I get it, you will see the beautiful Gamora print I'm in need of.
But…because my taste in pop culture is so diversified, I don't even know if I can keep my art collection strictly Disney. I already have an Elle Woods from Legally Blonde & Cher from Clueless piece by an artist named Ashley Taylor, which doesn't fit in any theme at all other than the theme of "things/movies/icons Rita loves". Alas, I'm considering adding other superheroes in the mix to compliment my Captain America. This artist I've been following on Instagram (her username is Punziella) just posted new artwork recently of her interpretation of teenage/young adult Powerpuff Girls!! But she has two different pieces…how do I decide which one?!
Look at how freaking cute these young women are!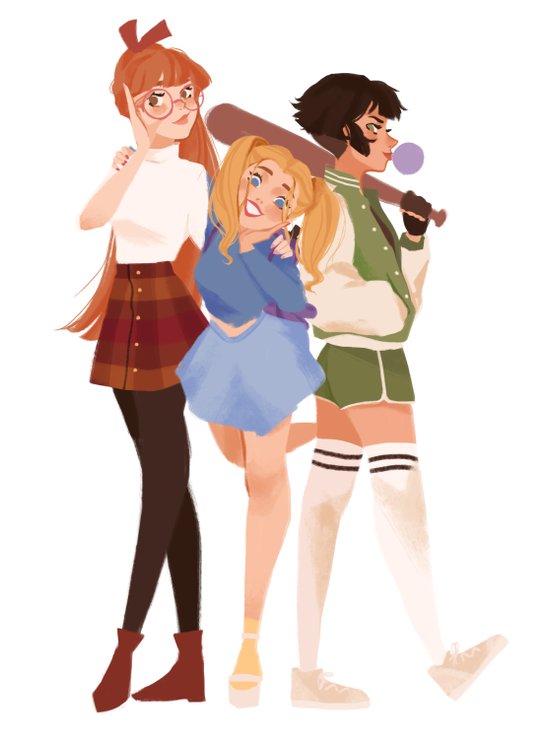 Want it for yourself? You're welcome!
I'm guessing they're either seniors in high school or freshmen in college.
But then….I love this badass roller-derby look as well!!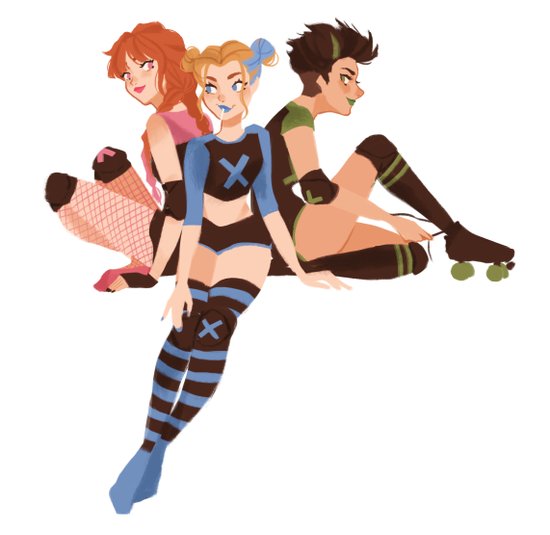 Blossom looks particularly exquisite in this one, and she's always been my favorite.
But for realsies…which one do I choose?!