Happy Rogue Friday, everyone!! So, Rogue One merchandise is being released now and I am so excited!! I remember last year when they released a bunch of merchandise for The Force Awakens…I bought a lot of things that weekend…mostly clothes. It was the first time I had seen a whole section of Star Wars apparel at a Target, and it was such a lovely sight to see clothes for all genders and ages. I bought myself at least one of the ladies' shirts I saw (I would buy a few more in the months to come) and a sweatshirt that I suppose was primarily made for men, but a size small was perfect for me. I didn't buy any of the toys (except, of course, Rey and Poe Funko Pop! figures), but it was fun to look at them. I definitely want to at least take a gander at all of the new Rogue One toys that will come out this weekend. I'm especially excited for Jyn Erso items. I have a feeling about her being awesome…I had the same feeling about Rey when I saw her. I didn't know exactly how awesome she was going to be, but I knew I would admire her.
Not only is an exciting time to be a female Star Wars fan when women are finally the lead stars in these movies, but it's also an amazing time for Hispanic/Latino Star Wars fans like myself! First, we had the hunky and beautiful pilot Poe Dameron played by Guatemalan-born Oscar Isaac:
Now with Rogue One, we get Captain Cassian Andor, played by the adorable Mexican (half like me 😉 ) Diego Luna:
Guys, do I want him in that blue jacket,
Or, in his other outfit, which is a Target exclusive?!
They're both insanely cute and fierce, I don't know which one to get! I can't decided on Jyn, either; there's at least 3 different versions I've seen that will be released. Or should I wait until the movie comes out?! Ha, nah…I know I will love these characters, I feel it.
They will look so cute with my other Star Wars Pop! figures:
Actually, I'm going to need a bigger shelf, or maybe add another shelf within that shelf?! Because they all deserve to be seen.
Remember when  I said that I do not collect Disney Infinity figures because I want to play with them? Well, that's mostly true; I need the figures to play as those characters in the games. But, let's be honest; if I could spend a few hours just playing with them, like I would have with my Star Wars action figures, Barbies, and Bratz dolls like I did when I was a child without feeling incredibly silly, I would. But perhaps that's just my inner story-teller just wanting to work with something visible, tangible, even. I think that's partly why I like collecting my Funko Pop! figures; they're adorable little bobbleheads that are actually quite the hot thing to collect right now, so I feel somewhat socially validated for buying these little figures. Like, they're meant to be collected by adults, right? Yet, I can't keep them in boxes like most of the fellow adult collectors I know in person. I need them to be out and free, so they don't suffer like stupid Jesse and my beloved Bullseye from Toy Story 2. Also, I like to tap their heads sometimes. I collected bobbleheads as a child,  so I've really just modified that hobby a bit.
In addition these Funko Pop! figures I clearly need, there will be a few non-Rogue One-related Star Wars releasing this weekend, like another Ahsoka Tano Black Series figure that will be exclusive to Wal-Mart. I don't have any action figures anymore, except for my ones of Ozzy Osbourne, Ringo Starr, John Lennon, Blue Meanie, and Jeremy (Yellow Submarine)…so it would be weird…or would it?! She is my favorite and I'm so deeply attached to her, it would make sense if I just collected everything I found of her. I've already been feeling regret at not trying to find this beauty when it came out (because now, it is impossible to find):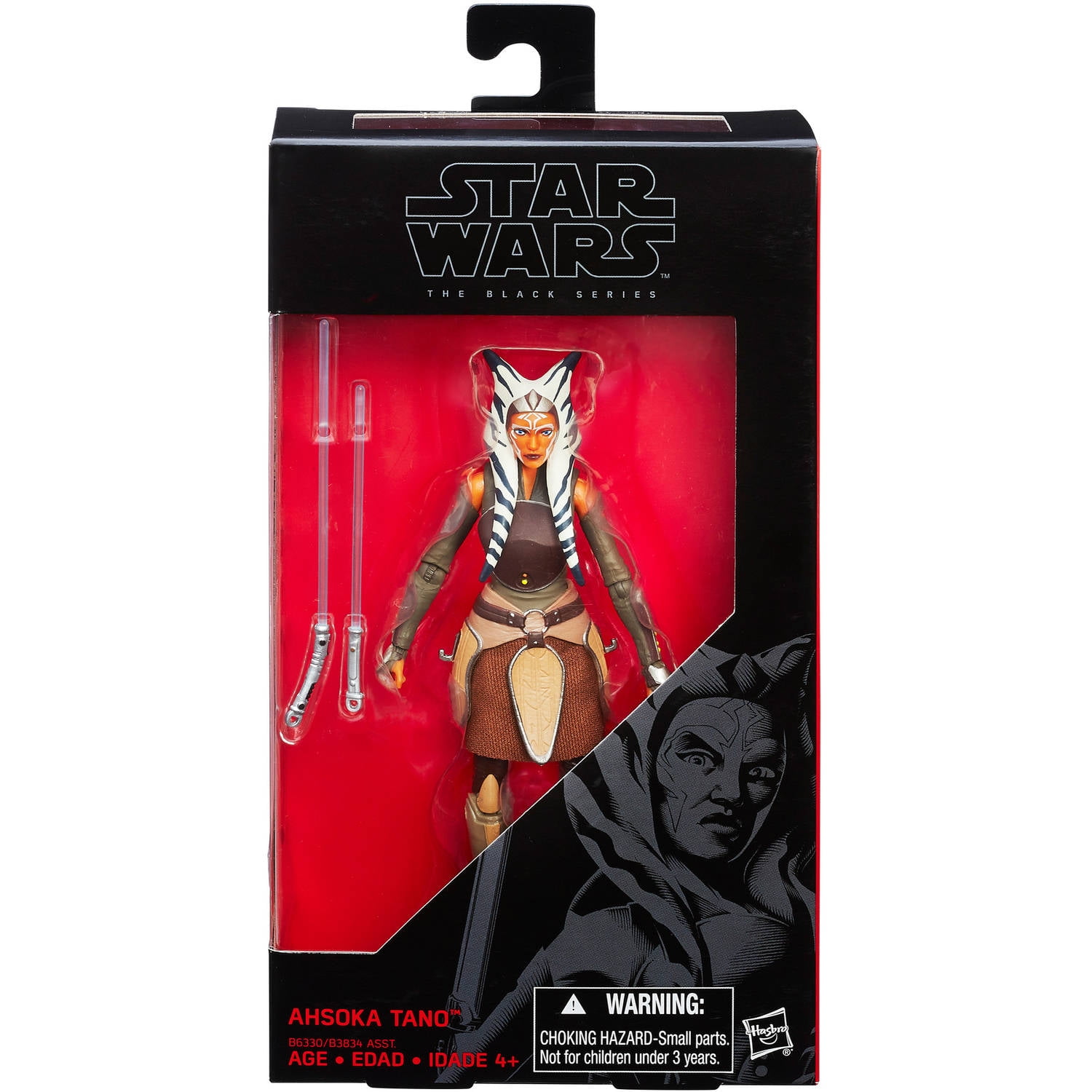 And this new one that's coming out is part of a "vintage" collection…aka, she's in her best outfit ever; her Clone Wars tunic:
Okay…I might need it..
BUT WAIT…back to the inclusion of females and minorities in Star Wars! I didn't mean to get distracted by toys! It's an important change in movies lately, more inclusion. Yet, it's still not happening enough; there has been criticism about Tim Burton's latest movie, Miss Peregrine's Home for Peculiar Children, and its' lack of people of color. I remember seeing the trailer and noticing the only character who isn't white is black and appears to be the evil character…I thought to myself "damnit, Tim Burton,", because I've been a fan and supporter of his all of my life. I grew up being in love with Pee Wee's Big Adventure, Beetlejuice, the Nightmare Before Christmas, and so forth. I consider him my favorite director, mostly because of my deep attachment to Pee Wee's Big Adventure. I've defended him to people complaining that he won't stop casting Johnny Depp and remaking movies….and then he does this to me. Sadly, he's really been doing it to me this whole time. Hardly any of his movies have people of color. People of the internet have pointed out that his world is just overall kinda pale, and that's sort of his aesthetic? But, is that a valid excuse? What's more disappointing than anything was his explanation of this particular criticism: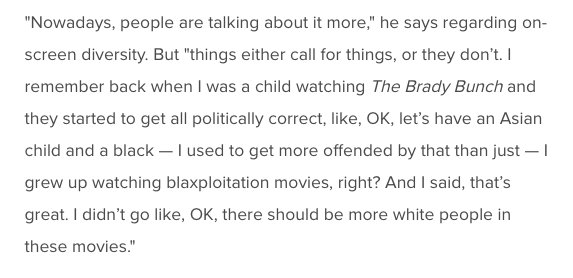 First of all, people complaining about political correctness are annoying; these complaints are typically from white people who truly have no idea what it's like to be a minority and be subjected to the worst stereotypes and slurs. I do understand the principle of not wanting to force anything simply for the sake of inclusion, but then…simply, don't force it. It should be natural. Like…was Finn from The Force Awakens written as a black character? I don't know for sure, to be honest, but John Boyega is perfect and darling and I think he was chosen because he was simply the right actor. Second of all….darling, I will always love your weird and creepy style and your drawings and such, but…right now, I kinda want to slap you. Of course you're not going to complain that there should be more white people in movies…you know why? BECAUSE ALL OF FREAKING HOLLYWOOD FOR YEARS HAS BEEN PRIMARILY WHITE MOVIES. Alas, times are changing and at least these injustices are being recognized. And I'm also realizing this about my favorite movies lately; John Hughes is my other favorite directors, and not only are his films super white, but they're also kinda racist; I've only noticed in the last few years how Sixteen Candles, one of my favorite movies ever, is terrible towards Asians (this realization was largely in part due to watching the show Fresh Off the Boat). I can't dislike the movie, I'm far too attached; but I can acknowledge that it was a imperfect time. Shit, it's still an imperfect time, but it is getting considerably better.
Speaking of which, this is old news by now, but please let me talk about how excited I was when I heard the hopefully true rumor that Zendaya is playing Mary Jane Watson in the new Spider-Man Homecoming with Tom Holland!! Then, please understand my disappointment in many people on the internet who were mad that Mary Jane was going to be played not by a white girl, but by a black one. And I freaking love red hair and Kirsten Dunst as Mary Jane, but we've seen that already. Zendaya is technically mixed race, like me, so that makes it even cooler. I'm also sad because this was the second time I had ever heard this young woman being mentioned in the media involving racism. The first time I had heard about her, it was when stupid Guliana Rancic criticized Zendaya's dreadlocks hairstyle at a Red Carpet event, saying it looked like this beautiful young lady "smells like weed" (she would later "apologize" by saying she merely was referring to a bohemian look (ha!)), while she praised one of those Jenner girls (I don't respect them enough to figure out which one it was. They're both awful, like their older sisters) with the very same hairstyle within that same week. One, Zendaya is absolutely gorgeous and fabulous. Two, Rancic is just a pityful reflection of the shallow celebrity-obsessed channel E! that she works on. Three, I'm sad that every time I heard Zendaya mentioned in pop culture news, it involved her being put down and pitted against white girls. Don't worry, Zendaya slayed Rancic for her idiotic comments  with such grace. And if she's Mary Jane Watson…I'm so freaking happy and excited. Like, at this point, I'm just going to be sad if she's not.
Also, while I actually strongly dislike rap and hip-hop, I adore this video of our possible Mary Jane Watson and Peter Parker (and friend) dancing: