Just watching my idol kicking ass, as usual. Don't mind me crying over here just because the season finale of the second season of Rebels has done all sorts of tangling with my emotions. Have I really become this sappy that I cry when I see Ahsoka cry, like in the episode Shroud of Darkness?! While in the Jedi Temple, realizing that her beloved master Anakin Skywalker had indeed become Darth Vader, I can't help but cry with her:
Or see her say "Anakin" with such bewilderment and heartbreak, and when I see her walking into the temple after Vader limps away?!
Alas, it's simply been an emotional Star Wars week for me:
I was watching The Force Awakens with my aunt and, it still hits me every time: when Rey cries, I cry! I can't find any images from it, but it's the scene after she touches the Skywalker lightsaber and Maz is all like "whoever you're waiting for on Jakku…you know they're never coming back…but there's still someone who can" and tears stream instantly down Rey's face, and then she says "Luke". Oh, my heart!
Another night I was reading Claudia Gray's Bloodline, and at the very end of a bombshell chapter, "Leia put her head down on her desk and allowed herself to weep". I just felt so bad and it was so stressful! I'm not going to spoil it for anyone who hasn't read it yet, though.
Basically, when Ahsoka cries, I cry! When Rey cries, I cry! When Leia cries, I cry! Normal? I mean, probably not. Alas, I can't help it!
On a happier note in my Star Wars love, I forgot to share my latest purchases showcasing the wonderful artwork of Lorna-ka! Here is a tank of all of the Ahsoka stages we have seen: 
Here is the art alone: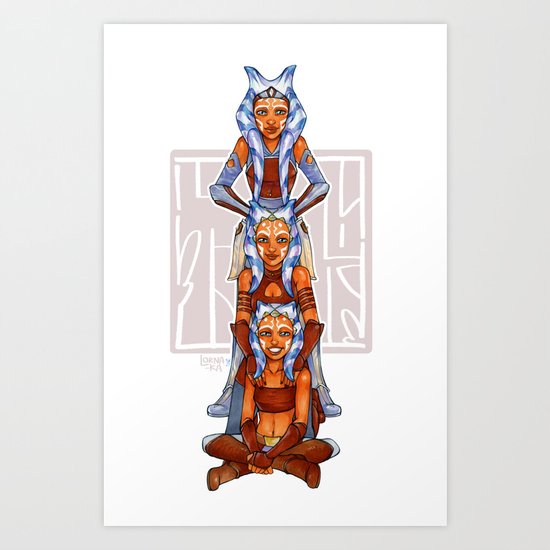 And here is my epic Ahsoka trooper tee:
I got this beautiful, super cool, super comfy shirt at RedBubble.
I still need more. This artist is incredible and I have plans to buy more apparel with her artwork on it!!