I've been admiring the work of Lorna-ka for months, talking about all of her Star Wars-inspired work I want to buy, and I finally did it! Soon I'll be going to Disney World with my best friends and I wanted to have a smaller purse and wallet to walk around the parks with, so I ordered this adorable purse from Hot Topic along with a tiny zip purse from Lorna-ka's shop on Society6 of one of my favorite pieces of hers:
My picture doesn't do her portrait justice, so look at the print version on Society6's website: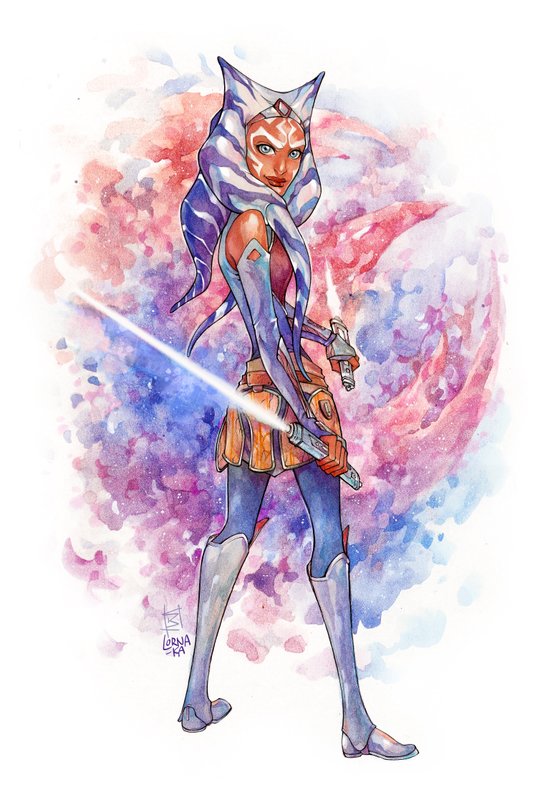 Isn't my hero just exquisite?! I'm so happy I get to walk around with my Ahsoka every day! I have plans for purchases, but I'm waiting on more sales…there's this other one of Ahsoka from her Clone Wars days that I decided I need as a clock: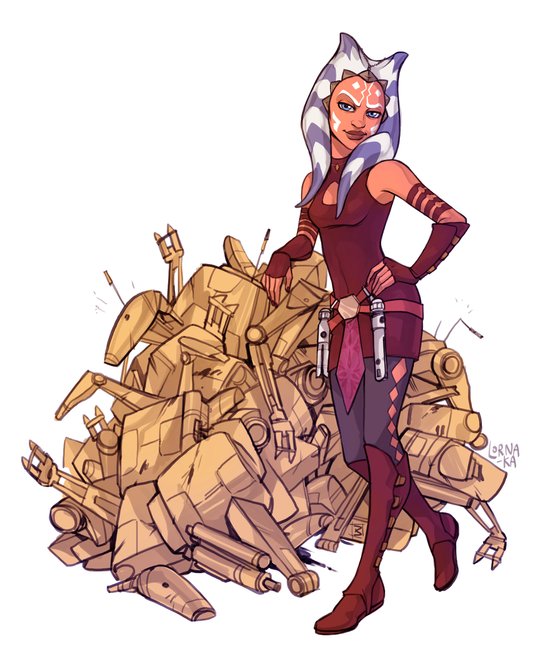 This is a nod to her competitiveness with her master, Anakin. Also, I absolutely love her smug face and the way Lorna-ka drew Ahsoka's body. It's just perfect, and as you may have read before, this my favorite outfit of hers and Lorna-ka just nails it.
There's also another piece she did just recently of Ahsoka as a mermaid, which puts two of my favorite obsessions together in such a beautiful way. I'm pretty sure she did it for #Mermay; I've noticed a lot of my favorite artists have been putting up new mermaid artwork lately, which is awesome. This one I want as a print…I'm debating on the size but I'm thinking of buying it tonight because 15% off and free shipping on various items is going on until midnight on Society6. LOOK AT IT:

She just looks so damn elegant and sage. I need it in my life. I just don't know if I want it as part of the rest of my art collection, which will simply be prints of various sizes (but all relatively small) all in varying frames together on my wall, or on another wall, extremely large and all by itself. I would just have to take other things down to fit a nearly poster-sized version, though…I have a large Breakfast Club poster that I've had in room since I was like 12….I suppose it could be time to take it down, it's had quite a run on my wall, but I would just feel bad. Yes, I know the poster doesn't have feelings…OR DOES IT?! This also, unfortunately, brings up the question of what I'm doing with my life. Will I even have the bachelorette pad I've always dreamed of, with nerd art and furniture and rock and roll memorabilia all around?! Well yes, of course I will. BUT WHEN?!
Okay…excuse my existential crisis.
Help me…what size should I get?!